Who the F*** is Banksy?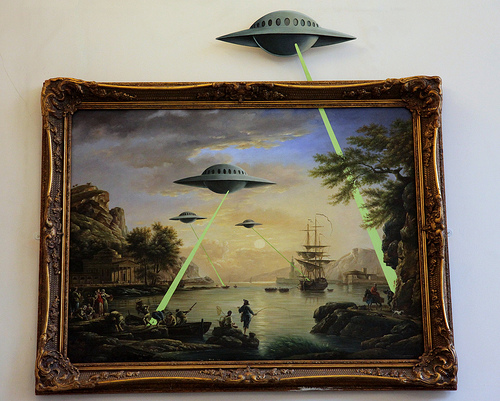 Wer sich hinter dem Spitznamen Banksy verbirgt, weiß niemand so genau. Fakt ist, es handelt sich um einen Straénkünstler aus Bristol, England. Mit seinen Kunstwerken proviziert Banksy auf fast schon charmante Art und Weise. Er regt zum Nachdenken an, macht auf Missstände aufmerksam, prangert an. Doch stets auf eine Art und Weise, die man fast schon wieder als humoristisch bezeichnen könnte.
Zurzeit sind zahlreiche Werke des Künstlers
im Museum in Bristol
zu sehen. Die Ausstellung ist kostenlos - leider habe ich letztes Wochenende zu spät davon erfahren. Ich konnte mir aber etliche Sachen in Fotoform anschauen - und war begeistert!
Beim Googeln bin ich auf noch mehr interessanter Fakten und Bilder gestoßen
.
Neben seinen Graffiti hängt Banksy auch eigene Arbeiten ungefragt in Museen auf. Sowohl im Londoner Tate Modern, New Yorker Museum of Modern Art, Metropolitan Museum of Art, the Brooklyn Museum, American Museum of Natural History, sowie im Louvre hingen 2005 unbemerkt seine Arbeiten. Im Mai 2005 wurde Banksys Version einer Höhlenmalerei, die einen jagenden Menschen mit Einkaufswagen zeigte, im British Museum gefunden.
(Wikipedia)
Und dieses Video, dass eine Umfrage unter Engländern zur Arbeit von Banksy zeigt. Ist es Kunst - oder Vandalismus? Das muss wohl jeder für sich selbst entscheiden.